Laboratory Vacuum Double Planetary Mixer
Laboratory Vacuum Double Planetary Mixer
Yushun

Hebei,China

According the order or stock

1000 sets one year
Laboratory Vacuum Double Planetary Mixer is application in laboratory test for lithium battery/ silicone glue/adhesive sealant/ink/energy/medical and others.
There are various Characteristics include vacuum , explosion proof, high efficient, homogenize, easy handle, easy clean, high line speed, imported spare parts with high quality, high speed dispersing and emulsification etc.
Laboratory Vacuum Double Planetary Mixer
Product work principle
Our double planetary dispersing mixer has combined the theories of the traditional double planetary mixer and high speed dispersing mixer, to create a new, high-efficient machine, at present it is widely used in new energy fields.
As per the character of Lithium-ion power cells and electronics capacity, we developed new reinforced machinery applied to the dry powder process for making Lithium power positive &negative electrode slurry , based on the traditional planetary mixers and dispersing power mixers, with high rotation speeds and larger torque. During the design, our company fully considered factors such as the rotational speed of stirrers, mixing power, linear dispersion speed, high viscosity slurry resistance reduced by reasonable twist stirrer shape, and distribution of turbulence intensity inside of the vessel to create the more efficient and more stable double planetary power mixer and the reinforced twist stirrers can deal with high viscosity battery slurry. The stirrer characters for the power mixer is that - the revolution and rotation of twist stirrer is clockwise -meanwhile rotation for high speed dispersing is anticlockwise, whose speed is adjustable to make the materials move complicatedly under shearing, kneading and dispersing, effectively eliminates all dead point and climbing phenomena during mixing. Three sets of mechanical seals, coupled together with soft and silence sealing to make sure reliable seal performance. On materials temperature control, it's used with unique thermoscope technology-planetary frame and thermoscope rod for revolution. Pt100 temperature measurement sensors have direct contact with material, greatly increasing accuracy of temperature measurement, response is much faster, error is reduced to only ±0.5℃.
The machine is comprised of the base, crossbeam, upright column , sealing cover ,vessel, transmission system and electronic control system.
This laborotary vacuum double planetary mixer is specially for lithium battery, silicone, adhesive sealant etc. high viscosity material labortory test use.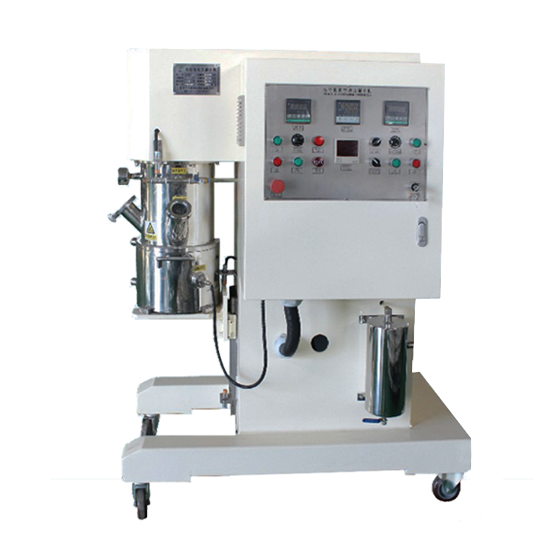 Technical Parameters
Items↓ Model→

2L

5L

10L

15L

Tank working Capacity/L

2L

5L

10L

15L

Tank Design Size/L

3L

7.4L

14L

18L

Tank Size/mm

180*120

250*150

300*200

300*250

Revolution Motor/Kw

0.75

1.5

2.2

2.2

Revolution Speed/rpm

0-51

0-51

0-48

0-48

Mix Speed/rpm

0-112

0-104

0-100

0-100

Disperse Motom/Kw

0.75

1.5

2.2

2.2

Disperse Speed/rpm

0-9500

0-9500

0-7000

0-7000

Disperse plate linear Velocity(m/s)

0-23

Suttle/Kg

303

420

550

570

Measurement/mm (L*W*H)

1100*660*1300

1250*770*1500

1350*800*1750

1350*800*1800
Technical configuration-5Liter
No.

Item Name

Model Specifications

Origin

1

Reducer

Helical Gear Reducer

XinJin Transmission

2

Motor

Low speed 1.5KW-4, 1 set;

high speed 1.5KW-4, 1 set.

Weinan/Siemens

3

Inverter

1.5KWx1 set;

1.5KWx1 set

Siemens

4

Thermometer

Pt100

(high temperature measurement accuracy)

Omron

5

bearings

according to drawings

Sweden SKF

6

Linear Guides

HIWIN

Taiwan Silver

7

skeleton oil seal

fluoroplastic skeleton oil seal

Taiwan NAK

8

Electrical components

Low-voltage electrical components

Schneider / Omron

9

valves

by drawing

Ennis

10

Gears

Precision grinding with tooth surface hardening helical gearing

Ou Weituo

11

Lubricating grease

High-speed bearing special grease temperature resistance 600 degrees

Best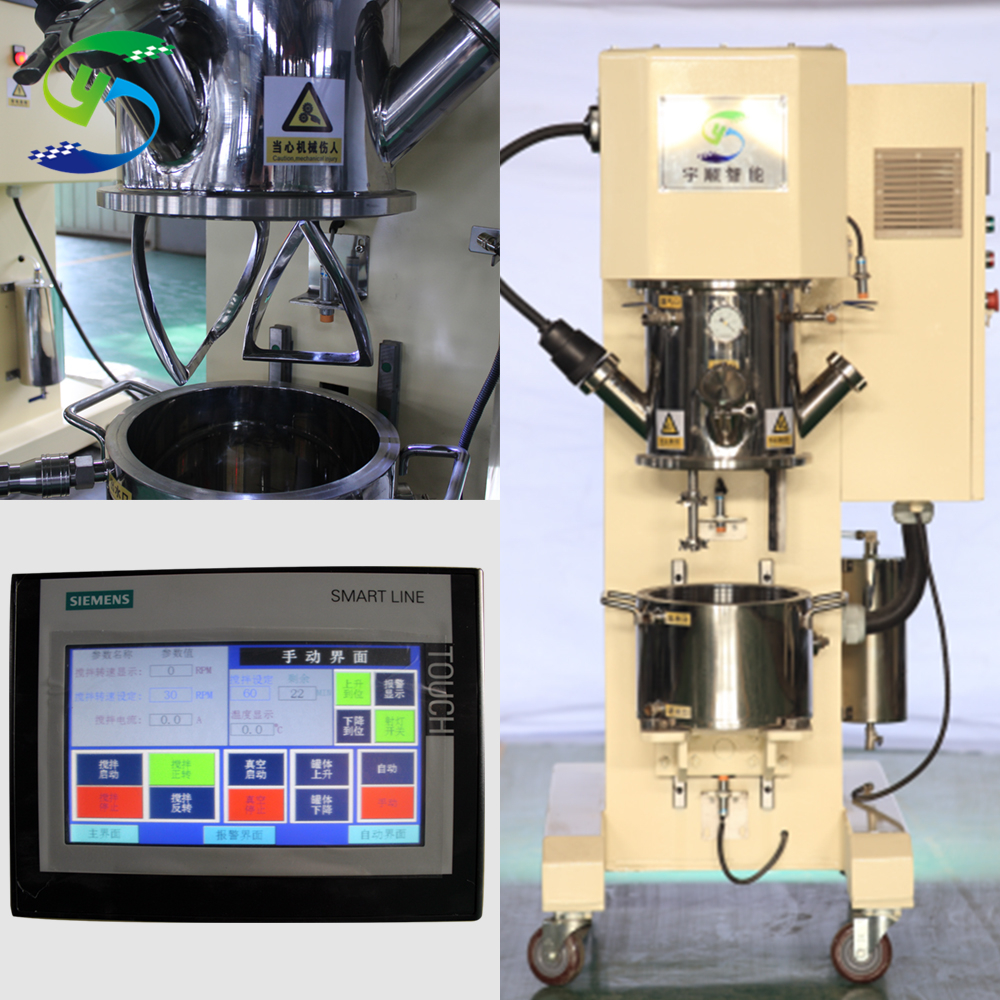 Features
· Versatile, heavy-duty design – units easily process materials from 100,000 to several million CPS
· Precision-machined tank and blades allow for close tolerances from blade-to-blade and blade-to-tank wall
· All wetted parts are stainless steel and highly polished to facilitate cleaning and reduce risk of product contamination
· Available in sizes from 2-liter up to 3000-liter
· Multiple blade options available
· All units are vacuum capable, allowing for deaeration or dehydration of product
Application