Laboratory vacuum battery slurry mixer
Laboratory vacuum battery slurry mixer
Yushun

Hebei, China

According the order or stock

1000 sets one year
Laboratory Vacuum Agitator Mixer is used for laboratory test for lithium battery/ silicone glue/adhesive sealant/ink/energy/medical and others.
It is vacuum mixer, has explosion proof, high efficient, homogenize, easy handle, easy clean, high line speed, imported spare parts with high quality.
Laboratory vacuum battery slurry mixer
planetary mixer vacuum/battery slurry planetary mixer/Li-Thium Cathode Slurry Battery Double Planetary Disperser Mixer/Li-Thium Cathode Slurry Double Planetary Mixer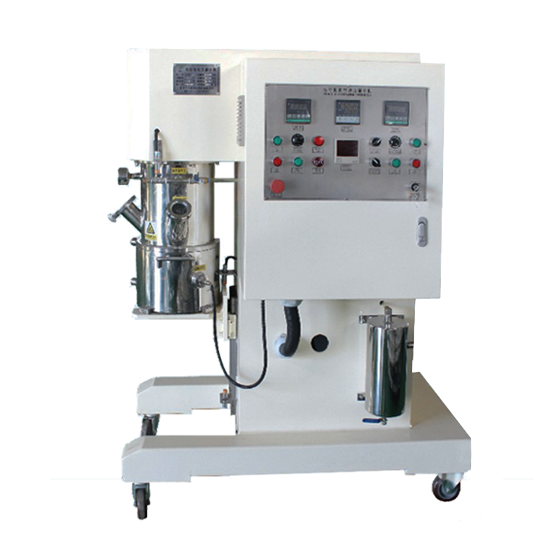 Work princeple
During the running of double planetary Vacuum power mixer , Two parallel mixing paddles run in accord with the set fixed rotation ratio, high speed rotating on its own axis at the same time of orbital revolution. There is scraper runs together with paddles' orbital revolution in the mixing tank, which moves the material to the paddles from tank wall, To archive the different shearing, The direction of both orbital revolution and rotating on its own axis can be fore ward and reversal; Another two high speed dispersing discs with separate driving device run in the mixing tank together with the orbital revolution, high speed dispersing , emulsification, The speed of high speed dispersing disc is adjusted by frequency inverter, The speed can be set in accord with demand;
The material can be completely well distributed emulsifying under this mixing mode , suitable for the dispersing and mixing of solid-solid, solid-liquid and liquid-liquid material;
Technical Parameter
Items↓ Model→

2L

5L

10L

15L

Tank working Capacity/L

2L

5L

10L

15L

Tank Design Size/L

3L

7.4L

14L

18L

Tank Size/mm

180*120

250*150

300*200

300*250

Revolution Motor/Kw

0.75

1.5

2.2

2.2

Revolution Speed/rpm

0-51

0-51

0-48

0-48

Mix Speed/rpm

0-112

0-104

0-100

0-100

Disperse Motor/Kw

0.75

1.5

2.2

2.2

Disperse Speed/rpm

0-9500

0-9500

0-7000

0-7000

Disperse plate linear Velocity(m/s)

0-23

Suttle/Kg

303

420

550

570

Measurement/mm (L*W*H)

1100*660*1300

1250*770*1500

1350*800*1750

1350*800*1800
Advantage

1. Yushun Mixers are used for dispersing medium- to high-viscosity products with a share of solids.
2. The product is dispersed in batches with easy to change tanks.
3. The speeds of the mixing tools are infinitely variable.
4. The height of the mixing tools inside the tank can be changed by using a hydraulic lifting column.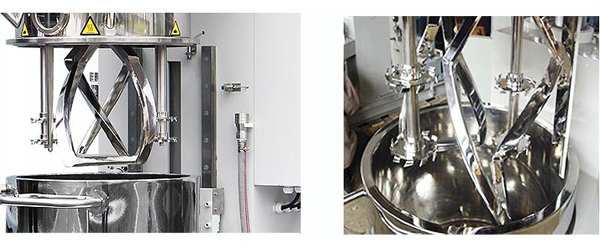 Application of laboratory Vacuum Agitator Mixer
1.Engineering adhesives :
RTV Silicon rubber—Silicon rubber for construction ( Silicone sealant,Acid glass adhesive),Silicon rubber for Mechanics,electronic. Polyurethane – Double component Polyurethane sealant, single component Polyurethane sealant, glass sealant, Organic sealant……
2.Coatings:
Decorative coatings、Anti-corrosion coatings, electric conduction coatings, Anti-rust coatings, High temperature resistance coatings, temperature-sensitive coatings, Heat-insulating coatings, titanium pigment……
3.Ink :
Silicone plastic button ink, Modified plastic ink, Metallic glass inks, Shoe material ink, ABS ink, PU ink, UV ink, ink additives, pigment ink, Special ink for silica gel……
4.New Energy:
Fuel cells, power battery, polymer lithium ion battery (LIP), button battery, lithium iron phosphate battery, battery for electrombile, lithium power battery, nickel metal hydride battery, mercury-free alkaline zinc-manganese battery, lithium (lithium ion) plastic battery, electrochemical energy storage super capacitors, lithium ion battery slurry……
5.Electronic ( electric slurry paste):
Solder paste, lead-solder paste, lead-free solder paste, solder paste, dielectric paste, resistance paste, conductor paste, solder flux, cleaning agent, soft magnetic material, hydromagnetic material, electronic electrode paste, ceramic paste, magnetic material, electronic coating, electronic adhesives, electronic and electrical parts grouting glue, hot melt glue……
6.Medicine :
Biopolymer gels, medical couplers, ointments, toothpaste, dental products……
7.Food:
Chocolate, gum, maltose, jam, peanut butter, condiment……
8.Others
Fine Chemicals, New Chemicals, Polymer Materials, Kaolin, Low, Medium and High Viscosity Materials (Liquid-Liquid, Liquid-Solid)……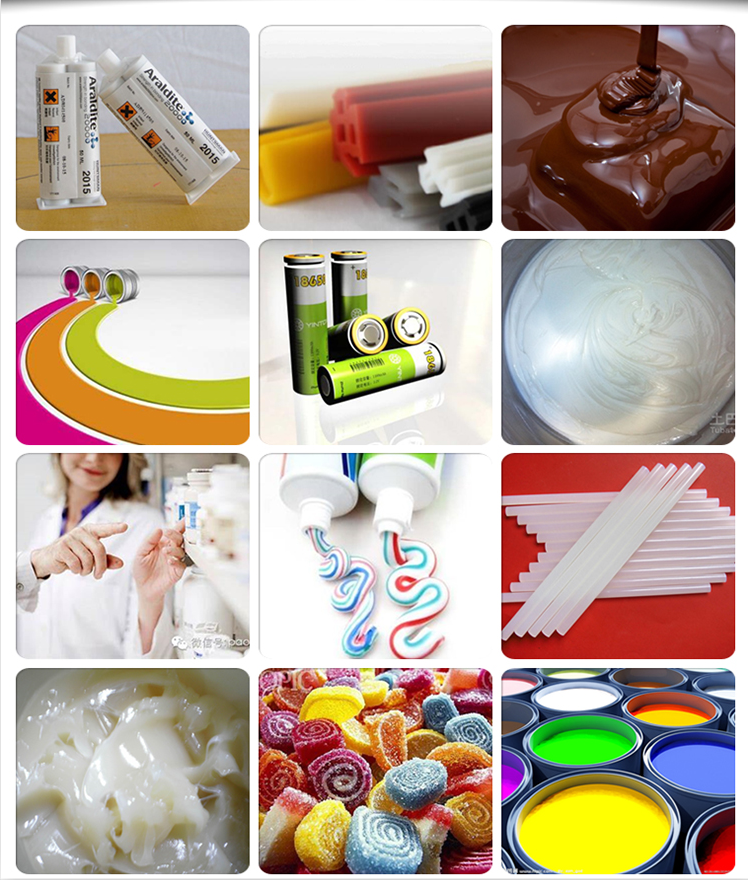 Company introduction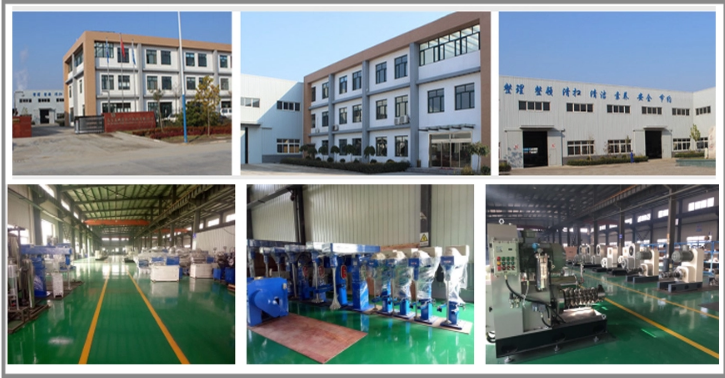 Yushun Intelligent Technology Co., Ltd. is located in the Qinhuangdao Economic and Technological Development Zone on the beautiful coast of Bohai Sea. It is a professional manufacturer with lithium automation equipment as its core, and it is a modern enterprise integrating scientific research, production and operation.
Over the years, we have been leading the same industry with product technology technology content, stable and reliable product quality.
Yushun has a group of high-quality professional talents and a capable team of employees. It is based on strong technical strength, continuously improves product performance and core technologies, resolves pain points in the industry, reduces costs and expands the market, and customizes various lithium batteries for customers. Automation equipment complete production line.
Yushun's products have been exported to the United States, Russia, India, Australia, Egypt, Sri Lanka, Ukraine, Thailand, Brazil, Malaysia, Vietnam and other countries, with its excellent quality and good service, has been widely recognized by domestic and foreign customers.
Our goal is "to first-class products, first-class service, to create a first-class brand." Yushun Company, with sincerity, innovation, efficiency, and forging ahead, is willing to join hands with you to create a brilliant future.