Explosion Proof Multi-shaft Mixer
Explosion Proof Multi-shaft Mixer
Yushun

Hebei,China

According the order or stock

1000 sets one year
Explosion Proof Multi-shaft Mixer use for RTV glue, adhesive sealant, silicone gel, lithium battery, new energy, coatings, pigment, paint, food, chemicals and other high viscosity and medium viscosity materials.

It has many advantage, such as easy clean, easy handle, PLC control system, lifting function and so on.
Explosion Proof Multi-shaft Mixer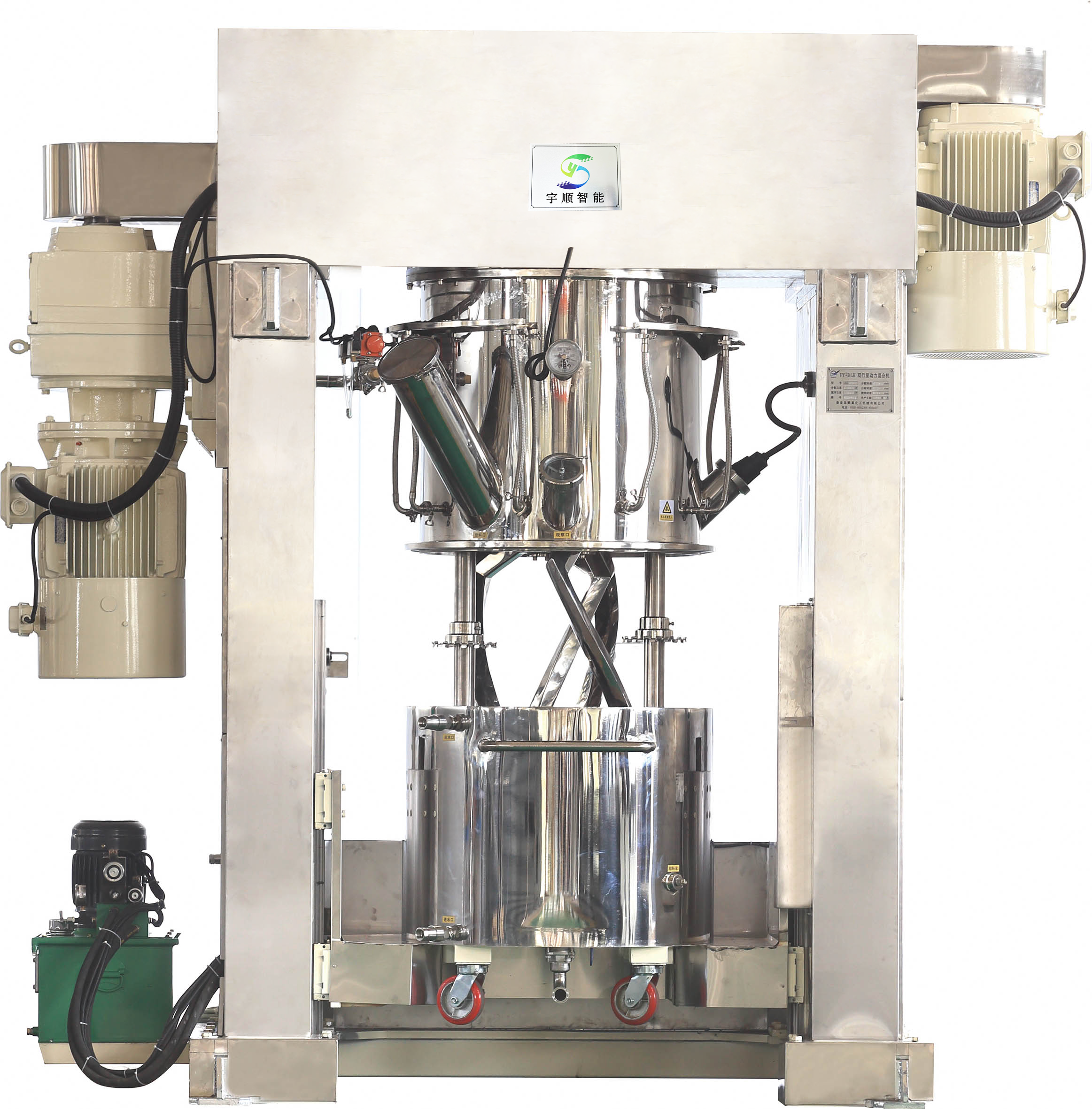 Manufacturer hot selling double planetary mixing machine, it's a new mixing machine with high performance, high efficiency, easy to clean and to maintain,double agitators of this equipment rotate and at the same time revolve around the axle, the agitators are divided by the viscosity and characteristics of the material, including paddle type, twist type, claw type, frame type etc., have good mixing, reacting, kneading, dissolving effect.
The planetary mixer is equipped with a separate set of scrapers to scrape the sides and bottom of the barrel with no residue. Th equipment is suitable for high temperature, high solids, high viscosity, and other difficult working conditions. The closed design can be used with a vacuum system to realize vacuum mixing, mixing barrel can be designed with a heating jacket, matching mold temperature controller, to realize thermostatic mixing function, It's the first choice of mixing equipment for the high-viscosity materials.

Technical Date
Tank Design Size/L from 300L-3000L

Tank working Capacity/L from 368L-3400L

Tank Size/mm 850*650 1000*850 1100*850 1300*1000 1400*1200 1500*1300 1700*1500

Revolution Motor/Kw from 22-110

Revolution Speed /rpm 26-9

Mix Speed /rpm 39-24

Disperse Motor /Kw 37-132

Disperse Speed /rpm 0-2000



Application
high viscosity material,approximate viscosity from 10000cp-1000000cp.
Uesd for all kinds of adhesive,Electronic Paste,solder Paste and other medium and high viscosity material.
Advantage
1. The low-speed agitating pulp and the serrated dispersing disc mounted on the high-speed dispersing shaft are both rotated and revolved
2. The high-speed dispersing disc produces strong mechanical and hydraulic shearing action, which can fully/deeply break up the material; thus ultimately ensuring that the material is fully dispersed and uniformly blended (mixed).
3. Combined with the low clearance design of the stirring slurry, The low-speed stirring paddles produce strong kneading interference movement and up-and-down/left-right circular motion (from the macroscopic point of view, material collision, exchange, extrusion, kneading/coinciding and circulation, achieving mass transfer, heat transfer and reaction functions)